Flooring for Kitchens and Bathrooms
Wills Carpet One Floor & Home is your local flooring retailer. As a part of our flooring collection, we offer kitchen and bathroom options. If you are looking to start a project in your kitchen or bathroom, you can turn to us for help. Our stylish and durable options are available in a wide selection of style for you to explore. We have several different waterproof options available. Our kitchen and bathroom flooring options are made to look stylish but also be functional for everyday living.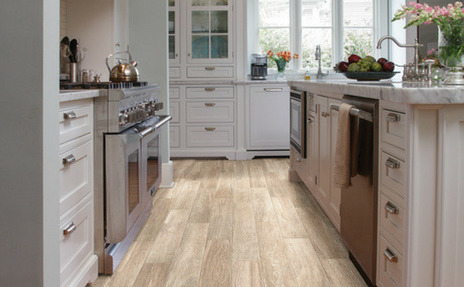 Kitchen and Bathroom Flooring Ideas
Tile continues to be the top choice for kitchens and bathroom floors. It continues to be a popular option because homeowners love the style versatility and built-in durability. Tile is one of the easiest floors to care for and only needs to be cleaned occasionally to prevent debris buildup. Not only is tile versatile when it comes to where you can install it, it is also versatile in terms of style and comes in a variety of colors, patterns, sizes and more. Check out our tile design ideas to get inspiration for how you'd like to design your bathroom using tile. Porcelain and ceramic tiles are the most common residential options. They are both available in a variety of colors and more. Porcelain is denser than ceramic, and is therefore more durable.
Luxury vinyl flooring is becoming a popular home flooring option. These floors feature incredibly authentic visuals, and feature slip and scratch resistant surfaces which are perfect for bathrooms. These floors allow you to have natural looking flooring throughout your home without you having to worry about accidental spills causing major damage. Luxury vinyl flooring is even warmer and more forgiving underfoot compared to tile. Many luxury vinyl flooring options are waterproof, so you can install them in your bathroom without worry about the moisture or humidity causing any damage.